The power of BPMA's Commercial Attitude® & Sales Process Control® training programmes – at a glance
Sales Process Control
BPMA' s vision on managing the Sales Process ("Sales Process Control")
Applying Commercial Attitude goes a long way towards laying the foundation for success. In addition, mastering skills such as asking the right questions (and in the right way), building a need for your products, convincing the customer and negotiating are absolutely vital.
a. Building a Need for your Products by asking the right questions - Commercial Attitude & Sales Process Control:
No matter how enthusiastically a sales person demonstrates his or her product, merely supplying information and super product presentations do not guarantee the sale. Asking questions is essential in finding out about and building needs. Typical contact persons include: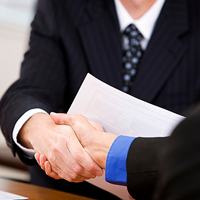 · Board Members
· General Director
· Financial Director
· Controller
· Marketing Manager
· Commercial Director
· Manager of Administration
· Head of Manufacturing
· Consultants
· ICT Managers
· Project Leaders
· Purchasing
· etc.
b. Convincing the Customer ­ Sales Process Control
A random "feature dump" of Unique Selling Points ("USP's") is a perfect recipe for confusion and uncertainty rather than clarity. Truly convincing arguments based on real and relevant customer needs bring the customer into a permanent "yes-rhythm".
In Commercial Attitude & Sales Process Control trainings BPMA provide a clear structure to convince the customer, making the sales process manageable and measurable from questioning, presentation, quotation to positively asking for the order.
c. Negotiating, Sales Process Control
In the event that objections do arise, the Negotiating part of the training provides a clear structure to overcome these objections in order to secure the sale. The process invariably ends by asking for the order.
Don't hesitate to contact us, if you are heading a multinational or if you have your own business, we are able to deliver services on your required level.
Contact us:
Certified Trainers BPMA, Institute for Commercial Attitude and Sales Process Control

E-mail: info@koppenaalmanagement.eu



Tel: +31 (0) 651330406