KOPPENAAL MANAGEMENT bv, the effective solution for true differentiation of your business
WELCOME to KOPPENAAL MANAGEMENT bv
Commercial Attitude And Sales Process Control
True differentiation in the market place is getting more and more difficult.
Sooner or later,technological and support-oriented advantages are copied by competitors so that customers often perceive products and services as roughly equal in value.
To aggressively compete on price is a risky strategy and so, not really a preferred option.
This leaves the human element, the front line sales person, to make the real difference.
In view of the sophisticated nature of the product and its specific application, lots of companies have no alternative but the direct sales avenue to bring their products to market.
If the front line sales staff are to make the real difference, this presents us with an interesting issue. Human nature dictates that with some people we get on better than with others. Selling to people with whom we have good rapport generally is much easier than convincing people who are "neutral" to us or worse still, we don't particularly like.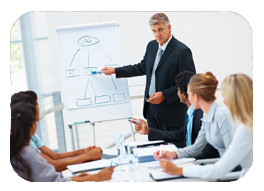 Unfortunately, with ambitious growth and profit targets we cannot live on selling through "friendly" customer contacts only. Usually, there are more people involved in making the decision ("Decision Making Unit")than the ones that we naturally connect with. We will have to find a way of selling into Decision Making Units regardless of these natural "click" contacts.
We must succeed in selling to that person who never has time for us or that purchasing agent that is only interested in price, price, price.
Commercial Attitude & Sales Process Control will show you why these things work the way they do and what can be done about increasing your personal scoring power, not with tricks but based on your own unique personality.
Are we going about our business hiding what we don't have or determined to show what we DO have? The choice is yours…..
We provide:
Don't hesitate to contact us, if you are heading a multinational or if you have your own business, we are able to deliver services on your required level.
Contact us:
Certified Trainers BPMA, Institute for Commercial Attitude and Sales Process Control

E-mail:
info@koppenaalmanagement.eu

Tel:
+31 (0) 6 55 2828 32